It is so frustrating when you buy earbuds and face issues like not working. And then you start searching for how to fix the OnePlus Nord Buds not working issues.
It is a common issue because most of the users face such problems once they start using audio gadgets.
Let's start understanding the issues and start working on fixing them.
What are the issues that you will face in OnePlus Nord Buds?
There are mainly 3 common issues that you might face while using OnePlus Nord Buds.
1. OnePlus Nord Buds One Side not Working (Right or Left Earbud)
2. OnePlus Nord Buds not Connecting
3. OnePlus Nord Buds not Charging
6 How To Fix OnePlus Nord Buds Not Working
There are 6 ways to fix the OnePlus Nord Buds not Working issue which we have listed below for you to fix your common problems.
If any problem is happening due to not updating firmware then it will resolve by just updating the firmware through HeyMelody App (Android | iPhone).
You have to open the HeyMelody App after successfully connecting your OnePlus Nord Buds to your smartphone with configuring HeyMelody App. You can then see the Firmware Update option on the home screen on the app and just click on it to check any update. If there is any firmware update available, you can update.
To factory reset means the device goes back to their initial configuration as you bought new. Factory reset is performed to fix the problem happening with earbuds.
So the question arises here how to reset the OnePlus Nord Buds. The steps for resetting have been given here.
Step 1: First of all, unpair and forget your OnePlus Nord Buds from every device where it was connected earlier. (Note– Before starting the reset process, you should check the earbuds and charging case have enough battery at least 50% battery.)
Step 2: Open the charging case lid and let the earbuds remain in the charging case, now press and hold the reset button placed back side on the charging case for 15 seconds until red LED blinking. While pressing the reset button, the Front LED on the charging case will blink white and then after a few seconds the LED will turn blinking red. At final, The LED turns white blinking again that means the factory reset has now been completed successfully.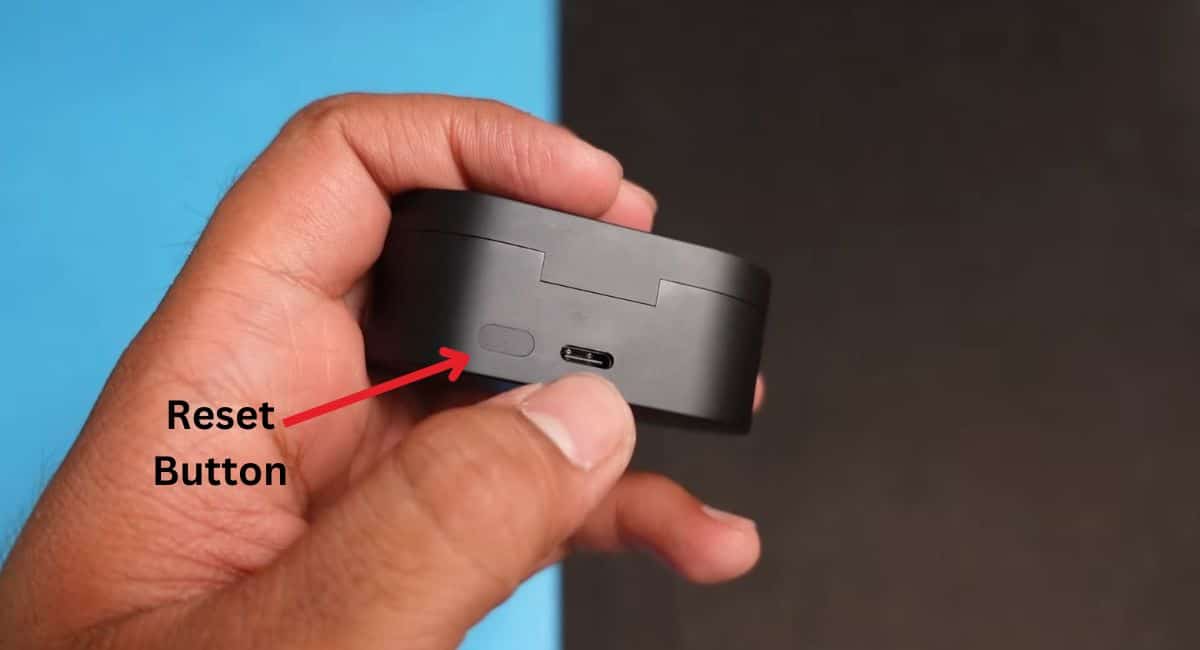 Step 3: You can now establish a fresh connection between your OnePlus Nord Buds to smartphone/ Laptop or whatever.
The factory reset may fix your problem.
Third: Turn Off and On Bluetooth
Sometimes, turning off and on the bluetooth of both media device and earbud may fix the problem of earbuds not connecting, bluetooth discoverable/ not detected, one side not working or not charging.
Try once if it doesn't work in your case then move to the other way.
Fourth: Clean the Earbuds Charging Point and Sensor
Usually, this is one of the reasons for earbuds not working or not charging. You should look at the charging point and sensor of both earbuds and charging case to check these are clear from dust. If you see any dust there on the charging point or sensor, you will have to just clean that by using the tissue paper.
Fifth: Earbuds have Enough Battery Charging
You will have to make sure that the earbuds have enough battery charging to make it functional properly. Before using any earbuds, you should look at the battery charging first.
Sixth: Check Charging Component (In Case of not Charging)
If you face an particularly not charging issue be it earbuds or charging case. You should check the charging cable, charging adapter, and charging port whether these components are well functional or not.
If there is any fault with the charging component, you can make it modified or you can buy a new one to replace the faulty one to fix this issue.
The last tip for you is to visit the service center if you follow all 6 ways to fix OnePlus Nord Buds not Working. If you don't know where the OnePlus service is located in India then you just click here to find the service center.
The above mentioned guide on 6 Ways to Fix OnePlus Nord Buds Not Working helps you to fix all earbuds be it any brand such boAt, JBL, Oppo, Sony etc or any type of earbuds. You just need to know the factory reset process in other brands or earbuds because not all have the same process factory reset.
If you like this guide then let me know your thoughts in the comment section below.
We have covered the best buy guide on best TWS under 6000 Rs budget that you should check if you are looking for premium segment earbuds.